Strengthening the MFG and Distributor Relationship "This Application created real switching barriers, further strengthening our value proposition with our distributors"
Learn More

Understanding Complex Products "We Were Able To Expand And Empower Our Distribution Channel by helping distributors simplify the sale of complex products online"
Learn More

Real Time Information Sharing "Bridging web content and ERP data from the manufacturer to all their distributors"
Learn More

No Software or hardware to install "Works With Any Existing E-Commerce And ERP Platform, A True Bolt-On Solution".
Learn More






Software as a Service
Simplify the selection process of products with complex and confusing variation. "No software or hardware to install, just an internet connection".




Platform as a Service
"A Powerful platform centralizing All Manufacturer Product Data For Seamless Connectivity Into Distributor Web Content And ERP Systems".




E-Commerce Engine
Robust e-commerce engine for small to midsized businesses.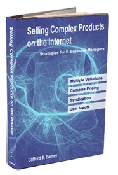 Selling Complex Products
Buy for $14.95